The first beta of Millénaire 6.2.0 is finally out!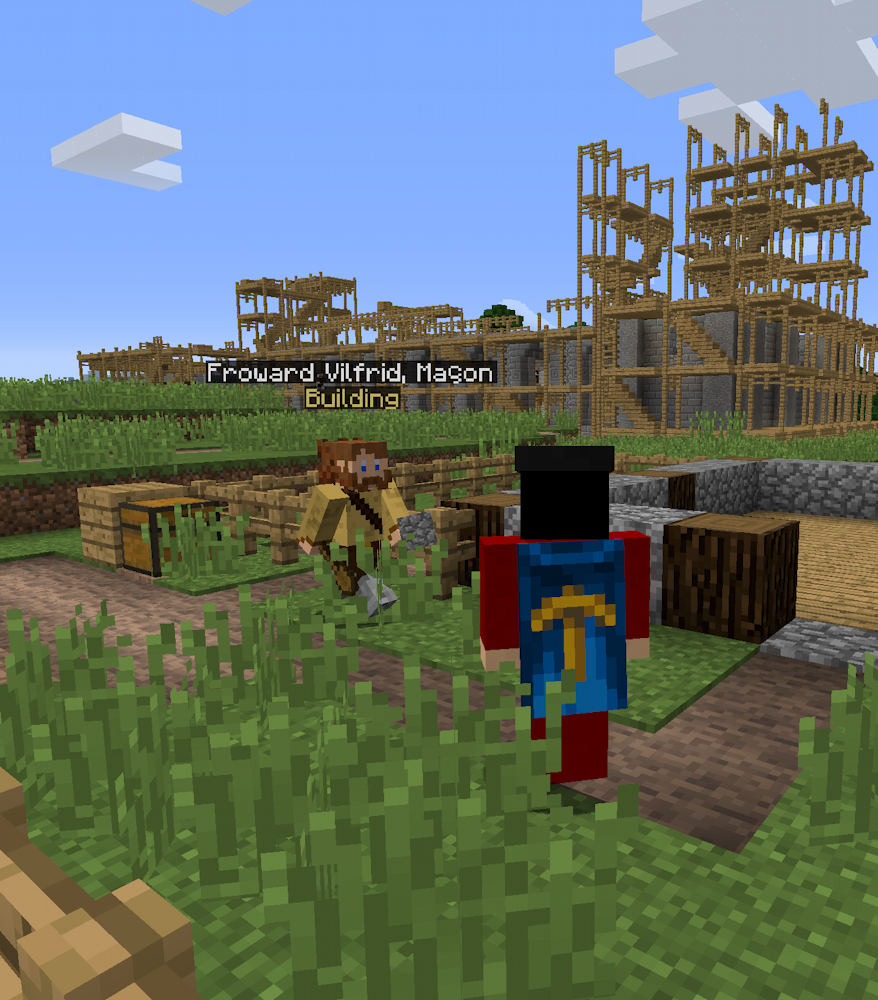 Download here:
client & server download
17/03/2018 - beta 16

- Reworked the villager tracking code to try and solve the sellers not coming bugs
- Fixed brand new bug that prevented the Japanese from cooking chickens and the Indians from cooking bricks
- The player's position is now shown on the village map
- Culture-wide reputation will now increase even from small boosts to village reputation
- Reduced the volume of the sounds made by crafters
- Small price rebalancing (stone cheaper, gold more expensive)
- Reworked the way panels are placed, hopefully solving panel rotation issues
- Added support for stone variations for content creators, including sources for the stone variants

15/03/2018 - beta 15

- Import of building variations fixed by SamBoy
- Fixed bugs in the handling of doors by villagers
- Villagers will now close both side of a double door after passing through
- Reduced the number of attempts Millénaire will do when a path calculation fails to limit lag spikes
- Villagers will now despawn if too far from their village (and not currently hired)
- Villagers will no longer attempt to use ladders, as they can't navigate them properly for now
- Fixed bug where Byzantine silk gatherers would replace full silk blocks by the wrong type
- Fixed bug in new cooking goals that could stop villagers from picking up cooked goods
- Likely fix for compatibility issues with Dynamic Trees
- Multiple building fixes by MoonCutter2B
- Creation quest status message now respects the "Display Starting Text" setting
- Villagers will now despawn if transported in another dimension by a mod
- Flowers and seeds around a newly-generated village will now be despawned (mostly to limit issues with custom biomes that add so many flowers the game lags due to all the floating items)

12/03/2018 - beta 14

- New feature by SamBoy: buildings now imported with placeholders for their "action points". This means things like selling positions or tree spawn points can now be edited in-game, and Millénaire buildings can now be imported and exported without damaging their special points!
- Brought back old system of automatic clearing of leaves in villagers' paths. Should end the pathing issues in groves.
- Reworked cooking goals to separate the specific actions for cooking individual items from a generic action to take care of the furnace (adding wood, removing produced resources)
- It's now possible to change the type of wood used in a building (planks, doors, logs..) when importing it by adding "wood:<type>" on the sign's third line
- When importing a building, if it's not found in the exports folder it will now be copied from millenaire/ based on either file name ("well") or native in-game name ("puit")
- The importer now supports importing variations ("farm_B")

11/03/2018 - beta 13

- New millRenameVillage command enabling admins to rename villages
- Fix for major teleporting bugs for villagers starting in a field or in water
- Possible fix for the new "seller not coming" issue
- New millSendProfiles command to resend user profiles when the reputation bug occurs in MP to help narrow down the bug
- Fixed bug where txt file would get messed up when exporting existing plan level
- Fixed issues with udon production
- Fixed bug that prevented gift houses from being available
- Added back loaded chunk map (SP only) in a normally thread-safe manner
- Language data can now be loaded from millenaire-custom/languages
- Added Goshen to the HoF for donation and testing. Thanks!

10/03/2018 - beta 12

- Removed dev files from millenaire-custom that caused players setting up Millénaire with beta 10 or 11 to end up in development mode
- Added system to reset the configs of players affected by the problem above
- Added warning on startup when the game is in development mode
- Added a message when no seller can be found detailing why
- Possible fix for a rare quest-related crash
- Cleaned up millenaire-custom/

09/03/2018 - beta 11

- Fixed bug where chatting villagers would push each other, gradually drifting from the village
- Fixed bug where trading with merchants would crash the game
- Fixed bug stopping Mayans from planting maize
- Fixed display bug in the building project panel
- Possible fix for bugs when trading in MP
- Small fixes to teleporting issues, though key bug remains
- Several building fixes by MoonCutter
- To help debug issues with villagers' behaviour, they will now show above their head if Minecraft considers them "dead" on the client or the server
- Added logs to help debug several reported issues
- Added text file in millenaire/ warning players that it gets overwritten
- As an experiment, villages will now trade with neutral relations or above

07/03/2018 - beta 10

- Fixed bug with goal names in the archives' panels
- Fixed bug where the trade UI would not update the status of goods correctly
- Fixed bug where quest lines would stay displayed above villagers' heads after the quest was dropped
- Lowered the sound made by villagers placing blocks again
- New Gradle setup by Samboy that will make development easier

04/03/2018 - beta 9

- As an experiment, gave all full villages an inn at start, to have local trade up and running faster
- More performance optimisation, this time on collecting items
- Fixed bug where players could plant Millénaire crops without having to learn to do so
- Fixed crashing bug when attempting to plan a raid in a controlled village
- Villagers can now grab items from further away, which should limit them getting stuck trying to fetch something
- Fixed the Byzantine silk clothes on sale having a broken texture
- Fixed some buildings requiring "air" to build
- Lowered the volume of the sounds villagers make when placing or destroying ground blocks
- Fixed missing Byzantine dialogue in English
- Fixed Byzantine fishing pound requiring masses of sandstone

04/03/2018 - beta 8

- Villagers now lie properly in bed, instead of half a block away
- Bed placement issue in some buildings (like the Norman forge) fixed
- Fixed bug where quests involving teenagers could cause errors in the logs ("Could not find villager type: teenagermale")
- Fixed bug where no sound would play when a villager would set or break a block
- Fixed a bug that could crash the game in some rare cases involving dialogues
- Fixed the panels' positions in several buildings
- Fixed bug with new handling of building costs that made Byzantine villagers unable to use tiles sold by the player
- Fixed bug that caused Millénaire crops to drop no items when harvested
- Locked chests can no longer be filled or emptied by hoppers
- Lowered the relationship needed for villages to trade


03/03/2018 - beta 7

- New auto-deploy system by Samboy that is around 40% faster than the old one
- Various optimisations that should decrease Millénaire's CPU usage by 30-50% in typical cases
- Likely fix for an issue when running some mods that could cause massive increase in Millénaire's CPU usage
- It should no longer be possible to steal from locked chests by using UI mods
- Fixed bug where some Norman villages would build the new fortress on top of their existing town hall
- Added Samboy and MoonCutter2B to the Hall of Fame. Thanks guys!

01/03/2018 - beta 6

- Likely fix for the respawning issue that caused villagers to "loop" their actions
- Fixed bug where villagers' skins would reset on load
- Externalized building blocks' costs to blocklist.txt. This could cause some small changes in the resources needed to build some buildings.
- Added options to "mirror" buildings during importation, instructions will be added to the wiki
- Support for doors in other woods than oak

27/02/2018 - beta 5

- Fixed major bug that caused villages to remain active even when outside the activity radius, causing major slowdowns when too many villages had been generated
- Likely fixed major bug that caused random "ConcurrentAccessException" crashes
- Updated all languages to the 1.12 setup and updated the translation gap calculation to take the new lang files into account
- Fixed builders holding an untextured item when setting the old wooden slab by replacing them with the new ones
- Fixed XP orbs floating around the player when a quest has been completed
- Likely fix for the crashes when exiting the Trade UI when running some other UI-changing mods

25/02/2018 - beta 4

- Integrated the languages fixes gather by the Language Team. Thanks!
- The One Probe will no longer make Millénaire villagers disappear
- Fixed bug where Millénaire slabs (half paths, byzantine tiles) would not display properly if smooth lightening was switched off
- Fixed a bug where the UID used for stats got duplicated in the config files
- More minor fixes

25/02/2018 - beta 3

- Fixed stupid mistake causing server to crash on startup in beta 2

24/02/2018 - beta 2

- After the tragic deaths of too many brave builders, anti-creeper protection has been extended to the entire village (used to be only around finished buildings)
- Fixed a major bug that would stop the purse from properly holding coins in MP
- Fixed paths having the stone sound when breaking
- Fixed hired villagers not following the player around
- Fixed a bug that would cause Byzantine villagers to change clothes whenever they picked up a new item
- Fixed villagers not being able to open and close fence gates
- Fixed Byzantine villagers not harvesting grapes. Note: this implied rework to harvesting and planting goals that breaks the use of fields generated in previous versions of Millénaire.
It is fully operational, with the following known limitations:
- Achievements are gone, advancements will replace them in a future release
- Custom player villages have not been fully tested
- Creation quest chapters have not been fully tested
- Hiring villagers has not been fully tested
- Only French and English languages are properly supported (the others need a small update to be compatible again)
- The "chunk loaded" map has been disabled as it needs to be completely reworked for 1.12
- Using the "One Probe" mod is confirmed to make villagers disappear
- Using the "ItemScroller" mod seems to cause crashes in the Trade UI
As well as the following functional changes compared to 6.0.2:
- millenaire/ and millenaire-custom/ directories are now auto-expended in the mods/ folder, to make installation easier and be compatible with Twitch. Thanks to Voltaire for pushing me into this!
- Anonymous sending of statistics (version, language...) to millenaire.org. Can be disabled in a new setting
- Villagers now have an "Attacking " line above their head when targeting something
- Villagers now hold appropriate items in their second hands, based on their current task
- Lumbermen now replant saplings respecting tree type
- Indian villages now use acacia wood in all constructions
- Millénaire crops, mud bricks and silk blocks all mature more smoothly
- The brick mould now lasts longer and produces four bricks from one dirt and one sand
- Village scrolls have the name of the corresponding village in their item name
- Villagers are now more efficient at planting and gathering crops and at laying and gathering mud bricks
- The HD textures are now a separate resource pack instead of an in-game option
- Merged client & server releases
- Large amount of code cleanup, refactoring and documentation
The following bugs are currently known and being worked on:
- Intermittent crashing bug in MP due to threading issues ("ConcurrentModificationException")
- Villagers have occasional pathing issues that cause them to teleport even when not required
- Villagers struggle to open doors and fence gates at times
- Villagers' positions while sleeping are off, leading them to often sleep in walls or other obstacles
Finally, for people who played the alphas, here are the fixes compared to alpha 6:
- Fixed chests having incorrect facings
- Fixed tapestries, sculptures etc not showing
- Fixed villagers not slaughtering animals properly
- Fixed boots currently being worn showing in the Trade UI
- Fixed bug where Indian and Mayan peasants would kill chicken but not gather their meat
- Fixed some inconsistencies in item pricing
- Fixed water set by villagers not flowing
- Fixed inversion between mud bricks and cooked bricks in Indian constructions
- Renamed the Hindi culture to the more coherent Indian culture
- More clean-up, especially removal of dead code
All my thanks to the Alpha testers, particularly MoonCutter whose help was most precious.
Happy testing, and please report bugs in the new tracker:
https://gitlab.com/Millenaire/Public/issues
!